Intimacy Matters Presents…
An Evening with Colin Richards & Guests
Intimacy Matters Presents … is a monthly event that I host at Home House,  London's premier private members' club in Portman Square, Marylebone. The evenings are relaxed, informative and entertaining where those who take part enjoy plenty of no-holds-barred conversation about sex and sensuality. Each evening is hosted by Colin who sometimes also invites special guest speakers. Guests are invited to come, listen and be entertained – then stay on to enjoy the club facilities and opportunity to share and discuss their insights and experiences with other like-minded people. Although held as a members' event, I am happy to invite non-members, so please just drop me an email if you'd like to be put on the guest list.

---
Next Event
---
2019
From Chloroform to Clitoris – How I Became a Sex Engineer
Date June 9th

7 pm doors open 
Talk starts at 7.30 pm to 9.30pm – Colin will stay on after for a social drink and chat with the audience.
Colin gives an entertaining, insightful and hilarious account of his life journey so far that brought him from the wild and windy South Devon coast to skyscraper living in central London, from being sent to boarding school at 8 years old and cooking egg and bacon for a hundred hotel guests to becoming the person women go to with orgasm issues and who couples seek out to help reignite their lives and who men learn from to become more confident lovers. Colin questions – are we led by fate or do we subconsciously steer ourselves into the lives we eventually find ourselves living? What drives us to do what we do? How do the actions of others affect our life path and how can we ensure we live the life that we want, rather than the one that others expect us to live.
Intimacy Matters Presents…. at Home House is now in its 6th year so if you have not yet attended one of these unique and enjoyable evenings exploring the world of sexuality, do come along soon.
Prices: £5 for members, £10 for non-members (includes a glass of wine and canapés)
---
Date February 27th

7 pm doors open 
Talk starts at 7.30 pm
9 pm to 9.30pm – Speakers will stay on after for a social drink and chat with the audience.
Open to non Home House Members – Tickets £10 – Book by emailing colin@intimacymatters.co.uk giving your name and numbers attending and he will add you to his private guest list.
I am delighted to have as my first guest speaker of 2019 Andrea Balboni.
Andrea is a sex, love and relationships coach with world-class certification in a unique form of results-driven coaching that encompasses modern psychology, cutting-edge neuroscience, and ancient yogic philosophy and practice.
Amazing sex – it's all in the mind…or is it?
Some say that the sexiest part of the human body is what lies between your ears. And whilst this is true to a large degree, it's only part of the picture. 
After all, our minds are connected to the most wonderful of things, our bodies. And it is when our mind and our body are totally in synch that we can experience maximum pleasure in sex. 
Recent understanding of the neuroscience behind all of this allows us to access our pleasure in entirely new ways. 
You'll learn: 
To train your mind and body to seamlessly work together so that you experience powerful, connected and loving sex with another.
The neuroscience behind different types of orgasmic pleasure.
How to access these different flavours of orgasm by shifting your mindset.
Simple techniques to reprogramme your mind and body to receive and to give maximum pleasure in entirely new ways.
Andrea Balboni is a Sex, Love and Relationships Coach based in London and working across the world. She has cracked the single code herself and now propels other women into epic love and incredible sex using proven scientifically-backed methodologies and her own personal experience. 
---
2018
Sex Tech & Tantra
Date November 27th 7.30pm to 10pm.
This is a notification of a change of one of our speakers. Regrettably, Andy Gibney is now not able to attend the talk so his place will be taken by Harley Street Consultant, Dr Sherif Wakil of www.drswclinics.com. 
Wakil is an expert on Sexual Aesthetics for both women and men.
Dr Sherif says…
When our sight gets impaired, we visit an ophthalmologist and perhaps get prescription glasses, when our hearing gets impaired we go and see the ENT doctor to check our hearing and perhaps get a hearing aid, this is called "Ageing". For some reason many believe that ageing can happen everywhere in our body APART from our penis and vagina, which is not correct. In this talk we will go through the changes that happen to our sexual organs, to women after delivery and menopause, what happens to male and female sexual organs as we age, what other sexual problems men and women could suffer from and how they manifest, and most importantly – what is it that can be done to reduce these negative effects and keep this very important part of our life alive and well!
Brand new NON-surgical treatments, in 20-40 minutes with no downtime and no side effects will be discussed by Dr Sherif Wakil, who was hailed by many colleagues and journalists as the Godfather of Sexual Aesthetics, who started this specialism in Europe and has now trained many doctors across the world.
Cosmetic & Sexual Aesthetic Doctor
Dr Sherif Wakil is the founder and medical director of Dr SW Clinics. He has more than two decades of experience in health care combined with a vast number of cosmetic workshops in the UK, Europe and USA. He has worked in a number of leading hospitals in the UK and the Middle East, including The Royal London Hospital NHS Trust and is now based on London's Harley Street.
Dr Wakil has performed more than 20,000 procedures and has introduced a number of new treatments to the UK and Europe, including the revolutionary P- Shot and O-Shot (Sexual Rejuvenation with PRP) and Vampire Breast Lift. He is the master trainer for these procedures in Europe and the Middle East.
As a national and international trainer for numerous aesthetic procedures including PRP Vampire treatments, thread lifting, etc..Dr Wakil has been invited to speak and share his skills at conferences and meetings around the world. Dr Wakil has led the non-surgical sexual aesthetics arena with his brand new sexual rejuvenation treatments and cutting-edge machines that he has introduced to Europe and the UK, to the point that he has been named the Godfather of Sexual Aesthetics on this side of the Atlantic.
Dr Wakil is the president of the International Association of Aesthetic Gynaecology and Sexual Well-being "IAAGSW' as well as a fellow of the International College of Surgeons and active member of several professional bodies including the General Medical Council, Cellular Medicine Association, British College of Aesthetic Medicine and British Association of Body Sculpting.
Michelle Roberton 
The Whats & Hows Of Tantric Sex
Tantric Sex is widely spoken of and yet for most still a mystery.
We assume that it is all about sex for endless hours, elaborate positions, orgasms galore and let's not forget withholding ejaculation. But is that really what we are aiming for? Another way of placing pressure on our sex as a performance? Michelle shares with us the how – very simply – we can change our sexual experiences from McDonalds into steak. As a Tantric teacher, bodyworker and counsellor for adult survivors of childhood sexual abuse Michelle has shared her work for 16 years, specialising in Sexual Trauma & Intimacy
To Book Your Ticket for £10 (including a welcome glass of wine and canapes) please email Colin now at colin@intimacymatters.co.uk and he will add you to his private guest list.
Arrival 7.30pm, ends 10pm.
Stay on after to view the house and enjoy the bars.
September 26th – 7.30pm to 10pm
Foreplay Matters – from Overture to Encore
From app to bar to bedroom, from flirtation to fornication, the journey of lovemaking can be so much more fulfilling for both sexes if time and talent are invested in the adventure. Commonly, female partners complain of insufficient foreplay, but many men, too, wish for more. In this Intimacy Matters Presents talk – drawing on his 13 years working in the field of human sexuality – internationally acclaimed sex engineer and relationship therapist Colin Richards will present the biological, anthropological and sociological reasons why sensual foreplay is important to both women and men. Colin will also talk about why – with the enormous changes in the past 20 years – we now relate to sex in a very different way to previous generations. Colin will give his opinion as to what this has led to and why a shift in perspective is urgently needed in society to accommodate this new and fast-changing world of high tech sex. This no-holds-barred talk will explain the differences between the female and male sexual response cycle and then educate and explore ways that enhanced foreplay can bring balance and pleasure to lovemaking. It will also offer a better understanding of the benefits of sensual intimacy, and explore why sexual pleasure is needed to accommodate and support an alternative 'a la carte approach' to sex rather than the traditional goal-focused penetrative sex of the past.
Guest appearance tonight is Mysteryvibe who will be demonstrating the amazing new revolutionary SMART Vibrator.
* note this talk will include a power point presentation that will include some sexually explicit images.
Book your ticket
£10 donated to Home House, designated charity, and includes canapes and a glass of wine.
This event is also open to non-members of Home House. If you want to come along to enjoy the evening and enjoy the fabulous environment of Home House then simply email colin@intimacymatters.co.uk and I will add you to my guest list.
---
The Psychology of Fetish & Kink
June 26th 7.30pm to 10pm
Does leather do it for you or maybe you are into latex? Are you considering a group encounter or maybe you like to dress up. Some like rope, some like silk, others may prefer vanilla but then some like it spicy as well.
I have a book that contains over one thousand different sexual fantasies and fetishes. Some are quite simple, some are more complex and adventurous, some are just downright bizarre but all will have a motivation at their core. If you have come across this in a relationship then unless you are both on board with the particular fantasy or fetish it can become an area of conflict and misunderstanding.
In this talk Colin will explain his theories on what makes each of us have a sexual fantasy or fetish. We are not born with them so something must influence us to develop them and there must be a reason why we want to experience them. This talk briefly explores the possible biological, psychological and anthropological motivations that could be at the root of our sexual and emotional imaginations and behaviours.
Definitions:
Fetish – Any object or non-genital part of the body that causes an erotic response.
Fantasy – An imagined sequence fulfilling a psychological need.
Caution – This talk includes references to sexual practices so open-mindedness is essential if attending this talk. Please see venue website for admission (age restrictions) or accessibility information. Our talks may be filmed for promotional purposes.
To book your place for this talk and to enjoy an evening at London's premiere Members Club email colin@intimacymatters.co.uk to be added to his private guests list. Ticket £10 to Home House Charity.
---
The Psychology of Attraction
A casual fun presentation of the theories and observations of Sex Engineer and Relationship Therapist Colin Richards. 
7.30pm March 20th – At Home House Members Club Marylebone  – £10 per head includes welcome drink and canapes
6.30pm March 28th – At Century Members Club Soho – Free entry.
Do you ask yourself..why do I always meet the same type of guy/girl, end relationships the same way, feel afraid of commitment, feel in need of security, get great sex but lousy life partners, meet nice guys/girls but lousy lovers; fall for abusive partners, attract victims or needy people, always go for older guys/girls, want a younger partner, feel anxious when having sex, feel guilty when being sexual, find it difficult to express yourself sexually, can't achieve sexual fulfilment, or experience anxiety when having sex.
These are just some of the relationship and sexual performance challenges that Colin will be talking about. He will explain how our early life influences can affect our attractions to others and our subsequent sexual preferences, behaviours and fears. Come along on your own, with a friend or partner, and listen or take part in some of the exercises.
To book tickets for either of the above events contact colin@intimacymatters.co.uk
---
The Vanilla Alternative
January 23rd 2018
An evening with Louisa Berry who will discuss her journey of sexual enlightenment.
---
2017
Back by popular request
Killing Kittens an evening with Founder and MD Emma Sayle
September 23rd, 2017
Host Colin Richards will be in conversation with Emma Sayle, founder of Killing Kittens – recognised as the global leader in offering the sexually adventurous a place to explore and meet the like-minded.
As KK's sex mentor, Colin runs workshops for their members and believes its the perfect place for those that are looking to explore and expand their sexual horizons.
The evening will allow the audience to hear more about what goes on and why people attend the parties; how does it effect a couple's relationship; is it good for single men and women to meet; how safe is it really for women; and more.
Cost: £5 members, £10 guests (all monies to our charity, Save the Children UK)
Time/Location: 7.30pm, House Lounge
---
Toys Ahhhh Us!
July 25th 7.30pm to 10pm
Colin welcomes Samantha and Paul, proprietors of Jo Divine, the UK's premier luxury sex toy company. The evening starts with a talk by Colin who explains the importance of developing and expanding knowledge and skills in foreplay and why sex toys can be a valuable accessory to maximise fulfilment for singles and couples.  After the break, Samantha and Paul will present……
Exploring the new world of sex toys
Jo Divine online was founded in 2007 by Samantha and Paul Evans with the objective to bring the best sex toys to market, and in this talk, they will introduce you to products for men and women that stimulate in ways many have never experienced before. Samantha and Paul are both passionate about sexual health and sexual awareness. A journalist in her own right Samantha often features in the Women's and mainstream media.
---
Meet The Movers & Shakers of Adult London
May 11th
Intimacy Matters Presents….. invites you to come along to a relaxed social occasion to mix and mingle with artists, professionals and business leaders of the adult scene.
In the past few years, London has established itself as the center of the globe for the discerning lover of the "adult" lifestyle. With elegant venues holding erotically themed evenings, alternative lifestyle entrepreneurs hosting events and specialist fetish clubs opening regularly London is leading the world in a more mature approach to the world of adult entertainment and sexual exploration. As boundaries between sexualities blur and multi-sexual clubs become the norm and as women recognize their equal entitlement to having as much fun as the men, both singles and couples of all nationalities are increasingly seeking quality sensual adventure with like-minded people.
 Hosted by Colin Richards, Sex & Relationship Mentor.
---
Beauty, Burlesque & Sexual Rejunivation
January 25th 2017
This month's Intimacy Matters Presents ….. is mix of showgirl & show stopper.
Starting the evening off is a fascinating presentation by Harley Street specialist
Dr Sherif Wakil, the founder of Dr SW Clinics, and creator of "O Concept" a groundbreaking concept, in the field of "Sexual Aesthetics". 
Dr Wakil introduced the O-Shot® and P-Shot® treatments for male and female Sexual Rejuvenation into Europe and UK and several other Non-Surgical cutting edge Sexual Rejuvenation procedures
After the interval, guests will be treated to a presentation and performance by international showgirl Ivy Page who will be talking about her illustrious career in burlesque and cabaret. She finishing the evening with a performance that as she promotes promises to lift the hem and lower the tone.
---
 2016
An evening with Emma Sayle founder of Killing Kittens
Wednesday 13th July 2016 – 7.30pm 
Emma Sayle is one of the UK's leading 'sex-entrepreneurs'. She made her name launching the elite adult-party brand Killing Kittens in 2005, and the popular press have pronounced her a leader at the cutting edge of the new dawn of female sexual liberation. She has appeared in national and international media from TV shows to broadsheets to radio debates and corporate talks. April 2014 saw the successful publication via Harper Collins of her book 'Behind the Mask', which is now available across Europe, Asia, Australia, New Zealand and the US.
When she's not dominating the male-heavy adult entertainment world, Emma can be found running the Sisterhood, which numbers Kate Middleton among its alumni. The Sisterhood is a group of toned-to-perfection females boldly going where not many girls have gone before, competing in extreme and adventure sports, creating havoc whilst maintaining a perfect ph balance between Lucozade and vodka. The group to date has raised over £300,000 for various womens charities. Emma herself has run the worlds hardest ultra marathon the marathon de sables across the Sahara, won the women's Great Amazon raft race, swam 6.5km across the Bosphorus and is now showing women can have it all by juggling a new born with KK world domination.
Emma will talk you through her journey over the last decade from Launching Killing Kittens and being front row on the judgements, breakthroughs and social shifts in female sexuality.
---
17th May – 7.30pm
AN EVENING WITH THE SCARLETT LADIES 
This is a women's only event 
Intimacy Matter Presents…. is hosted by Sex Mentor & Psychosensual Masseur Colin Richards and tonight he is very pleased to welcome back the Scarlett Ladies. Following the very successful Question of Sex evening held in April when Janette and Sarah of the Scarlet Ladies joined in on the guest panel, Colin has invited the ladies group to have an evening all to themselves.
Tonight with Colin Scarlett ladies will be discussing – The Female Sexual Revolution so come along and join in the conversation or just listen and learn
Scarlet Ladies is a members only community aimed to bring women together to discuss topics relating to women's sexuality and female empowerment. They create London Based events to provide a sanctuary for women releasing them from outside pressures and judgements so they can become comfortable in who they are and what they want. Scarlet Ladies create fun, exciting and inspirational women only events for the sexually curious and the go getters in London. The aim of Scarlet Ladies is to give women a safe and fun place to reveal and explore who they are sexually. Where society has failed, Scarlet Ladies prevail.
Time Welcome drinks – 7.30pm for 8pm start
Non-Home House Members very welcome, £10 per ticket to include wine and canapes – contact colin@intimacymatters.co.uk to book your place or call Colin on 07966 522 696
---
 A QUESTION OF SEX
A question of sex is my most popular Intimacy Matters Presents evening. This time, a selection of ten professional open-minded men and women will sit on a panel to take any question you have about their relationships and sex lives. With them will be a fascinating group of sex experts all who work in the field of sexology and various adult services. They too will be on hand to explain and explore the deeper motivations of why we do what we do and why we like what we do. Add into this mix a couple of glasses of Home House wine and some delicious canapes and fill the room with an inquisitive charismatic audience and you have the making of a very interesting and entertaining evening. Questions can be posed openly of anonymously on tickets  A must come event even for the shy ones!
---
Date: February 23, 2016
Time: 7:00 pm
Ticket types available to book:
Member Ticket: £5.00 Guest Ticket: £10.00
With an ever-growing range of practitioners, sex and relationship experts, adult eventers, sex educators and researchers in the UK,  Home House's very own sex and relationship therapist Colin Richards will continue to bring the most interesting, stimulating and enlightening speakers on all things intimate, for you – to be entertained and enjoy.
Colin's first guest of the year is Anna Allesandro. Anna is a London-based jewellery designer but with a difference. For her latest collection "Close Ties" Anna took inspiration from Shibari, the Japanese art of rope bondage that has its roots in the Edo period when rope was used to immobilise prisoners. Over time Shibarievolved into a rich and versatile art form, ranging from dynamic living sculptures to intimate erotic restraint.
For the first part of the evening Anna will tell us about her desire to create a talismanic and precious expression of what is dear to her heart, "Close Ties" weaves together jewellery and shibari, creating feminine jewellery with a dark romantic twist." For the latter part of the evening and with the help of her "Rigger" Anna will give live demonstration the physical art of Japanese rope bondage.
Cost: £5 members, £10 guests.  (Monies to support the Children's Intensive Care Appeal at St Mary's Hospital, Paddington).
---
2015
Carnal Conversations No 18 – Love Latex – Love Touch
October 6th 2015 
An evening of 2 halves to make your evenings fun and fulfilling
Catriona Stewart one of the UK's leading designers of latex fashion and fetish wear will be giving a talk on how latex can be looked at as both a fetish fabric and also a high fashion fabric and how the two can make a woman feel empowered while wearing it. With the assistance of both female and male models,  Catriona will look at how various types of women and men can wear latex, how it can make a women look classy and powerful, sexy and seductive and man intriguing and enticing.
In the second half of the evening, following his recent interview on his work as a sex mentor and sensual masseur for women by the UK's best known women's magazine, host Colin Richards will give a talk on why more and more women of all ages and backgrounds are seeking out sensual massage; not just as a pleasurable activity but as an essential part of managing and maintaining their sexual health and confidence.
www.catrionastewartclothing.co.uk
Venue: Home House Private Members Club, The Gloucester Room
Time: 7.30pm to 10.00pm
Guests: £10
Free to Home House Members
If you are not a member of Home House but would like to attend this event, please contact Colin at colin@intimacymatters.co.uk fee is £10 to Home House
---

Carnal Conversations No. 16: 'Gentlemen's Prerogative'
3rd June 2015
This is an evening for gentlemen who think they understand women. An evening when even the most experienced of lotharios may be surprised by the candid answers the panel of eight sexually confident and experienced women will give to any question the male only audience care to ask.
This is intercourse with a difference! On the panel of female sex experts, we will have: a dominatrix, an escort, a slave, a business woman, a sex columnist, a stripper, a doctor and a sex therapist.
So gentlemen gird your loins, grab your mantle and come along to enjoy wine, canapés and what will prove to be an extremely revealing evening of carnal conversation between the sexes.
Audience spaces are limited to 25 so dont hold back, book your place now: email colin@intimacymatters.co.uk
Venue: Home House Private Members Club, The Etruscan Room
Time: 7.30pm to 10.00pm
Guests: £10
Free to Home House Members
---
Carnal Conversations No 15 – Ladies Night "Ask The Men" April 14th 2015
Tonight is ladies night when a specially selected panel of unabashed gentlemen of various ages and professions can be quizzed by the ladies only audience on any aspect of sex, sexuality or relationship. On the panel we have 2 psychologists, a musician, a life guard, a holistic healer, a financial analyst, a entrepreneur inventor. This is perfect opportunity to see it from HIS perspective. What do men really like? What worries do men have? What is a turn on or off for them? Ask anything and all will be revealed. Complimentary for club members, £10 per guest. Whether a member or not to book your place contact Colin at colin@intimacymatters.co.uk or call him on 07966 522696. 
---
Carnal Conversations No 14 – "Anything but Grey" January 13th 2015
Colin Richards,  Sex Mentor & Relationship Therapist welcomes this January's Carnal Conversations are Corsets & Diamonds and Serendipity Parties who will together present an introduction to the worlds of burlesque and fetish.
Coinciding with the film premiere of Fifty Shades of Grey, Corset and Diamonds www.corsetsanddiamonds.com, artisans of titillating pop-up vintage and burlesque events since 2008 are producing, on Friday the 13th of February, "Anything but Grey" a black and white ball where the worlds of burlesque and fetish collide.
My returning special guest will be Monica Martinez who as well as looking gorgeous herself will be giving you tips on what to wear to a real demonstration of some of the action featured in the Red Room of Pain (from Fifty Shades of Grey), this event promises an unmissable evening.
Complimentary for members, £10 per guest
Time/Location:  7.30pm, Gloucester Lounge
---
2014
Carnal Conversations 13 – "Infection & Reflection" 18th June 2014
Wednesday 18th June 7.30pm – Gloucester Room
This month's guests may appear to be diverse in their specialisation but then again sex and sexuality itself has many faces.
From Gonorrhoea to Goya come along and discover stuff about sex that you thought you would never know and appreciate as well as stuff that you know you should know bu have been afraid to ask.  Truly an evening not for the fainthearted!
The guest are an expert from the UK's leading leading sexual health clinic In Dean Street Soho and two erotic performance artist Amy Kingsmill  and Apple Tart whose work draws from surrealist and fetishistic influences.
Amy Kingsmill 
Since moving to London in 2009 to study I have been exploring its underground scene in tandem with feeding my artistic practice. Here I have been able to cross fertilise queer imagery with fine art aesthetics to create arresting endurance works which solicit the body as a platform and often use dressing as a form of three dimensional surrealist collage. As a recent graduate in Fine Art at Central Saint Martins I have performed at Franko B's Untouchables at Mori and Stien gallery and at Peep Anatomy at Edinburgh Fringe. I have performed at the infamous Torture Garden Club and presented my paper, Perverts along side Annie Sprinkle at the Performing Porn symposium at Performance 
More can be read on Amy and her work at her web site http://aekingsmill.carbonmade.com/ and Apple Tart at www.the-s-r.com'
---
Carnal Conversations no 12 – "Why do I always seem to…." 22nd May 2014
……meet the same type of guy /girl; end relationships the same way; feel afraid of commitment;  feel in need of security; get great sex but lousy life partners; meet nice guys/girls but lousy lovers; fall for abusive partners; attract victims or needy people; always go for older guys/girls;  want a younger partner; feel anxious when having sex; feel guilty when being sexual; find it difficult to express myself sexually. These are just some of the relationship challenges that sexual performance and relationship mentor Colin Richards will be looking at.
Come along on your own, with a friend or partner and listen or take part in some of the exercises. Learn about the Imago Relationship model and dialogue through which Colin will explain the early life influences that effect our behaviour and then show you how by adopting a new way of   listening and communicating, you can go a long way to overcoming repeated relationship behaviour patterns and get the relationship you really want.
Location : Etruscan Room
Time : 19:30 PM
Complimentary for Home House members, £10 per guest
---
Carnal Conversation no 11 – "Secrets of the Kama Sutra" 2nd April 2014
Everyone's heard of the Kama Sutra but you do really need all those positions to have great sex? Does the Kama Sutra talk about anything else?
Vena Ramphal has studied the original kama sutra. She is a sex and romance mentor, and modern relationships expert teaching people how to create fulfilling love lives.  So with Colin as your regular host, who himself will be revealing how you can enhance your foreplay skills with more conscious intimate touch you can enjoy an evening in the company of the experts and likeminded. So ladies and gentlemen don't be shy come learn the most practical secrets from the ultimate sex book. Take away tips and mind blowing techniques to spice up your day to day lovemaking and ask the questions you always wanted to but never dared to.
---
Carnal Conversations no 10 – "Question Time" at Carnal Conversations 18th February 2014
Have you ever wondered what it would like be identified yourself as a hedonist or maybe you would like to ask a question to a specialist in the art of tantra. Have you ever considered having your naked body sculptured by an erotic artist or attending an adult party or what it is like to work a sex therapist? Learn about the up's and down's of life as a professional female adult entertainment model or hear about the psychology of sexual arousal.  This 10th Carnal Conversation is a question and answers evening where an invited panel of Sexperts, Practitioners or simply the Hedonistic will be available to answer ANY question you have about their chosen profession or lifestyle. Your guest panel for this event is:-
 Sensual Massage – Intimacy and Arousal. – Colin Richards. As well as being your host for the evening Colin will be talking about sensual massage and his 10 years experience in giving this increasingly popular intimate arousing treatment. He will mention a few case studies where receiving a sensual massage has not only fundamentally changed a client's life but on two occasions allegedly saved their lives. He will talk about the female client who came to him after 18 years of marriage,  still a virgin, angry and frustrated with her husband because he would do nothing about his premature ejaculation. He will talk about how this form of treatment helps people explore their sexuality safely and discreetly, he will explain how sensual massage can overcome sexual performance problems and fear or lack of intimacy and he will answer any question you put to him frankly and concisely. He will also announce the launch of his newly redesigned web site www.massage33.com which brings a fresh honest approach to sensual massage and its growing importance in todays intimacy starved society.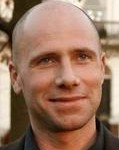 ART – Jamie McCartney – is an Internationally Recognised Experimental Artist famous for his 8 metre long Great Wall of Vagina sculpture, comprising plaster casts of 400 women's pussies. His erotic portrait sculptures and unique, cameraless nude photography have won him many awards. Frequently in the media, he has an international reputation as a leading voice in underground art. In a lively and provocative slideshow Jamie will discuss eroticism in art, showing that it isn't just for dirty macs. He'll explain the transformative power of artworks like The Great Wall of Vagina. To end he'll show how his erotic art can be mischievous and a bloody good laugh.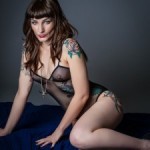 ENTERTAINMENT – Adreena Winters – is a London based Alt model, and Adult Performer. Adreena will be talking about her career and her journey from the English Westcountry to become one of the most sought-after adult performers in the UK.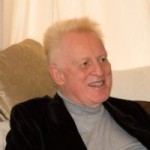 ACADEMIA – Frederick Toates is Professor of Biological Psychology Department of Life Sciences The Open University
How does sexual desire work? How does it arise and what are the components of sexual desire? How does it differ between individuals? How is it that some feel little if any desire, while others are driven to destructive addiction by it? How is it that desire can be manifest in fetishes? In this talk, I will present something of the latest research findings and relate this to my own autobiographical experience of sexual desire – what have been my special turn-ons? I will describe some of the issues that arise in being both a person of erotic desires and a researcher. Some broad social messages from the research for helping people will be discussed.
KAMA SUTRA –  Vena Ramphal is the passion coach specialising in romance and erotic pleasure.Vena facilitates people to make choices that bring them more fulfilling love lives, whether its ending a partnership, creating a new relationship, or cultivating a deeper experience of erotic pleasure. Vena's work draws on the erotic wisdom of the kama sutra traditions and classical Indian philosophy.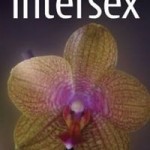 INCLUSIVNES & MISCONCEPTIONS – Dr Sarah-Jane Victoria Brookes – Intersex Escort & Nuclear Physicist
---
 The Carnal Conversations No 9 "The Sex Quiz" 27th November 2013
Location : Gloucester Lounge Time : 19:30 PM
Who wrote the Multi Orgasmic Man?
What links Kellogg's Cornflakes with Masturbation?!
From what origins does the word Fornicate come?
All will be revealed at this light-hearted, highly informative, occasionally shocking, team quiz evening
So come as a single and join others or gather your friends and make up a team of maximum
6 persons.
Quiz Master Colin will fire question to the room, team members confer and
answers are written so no need for embarrassing public displays of either lack of, or overt
knowledge of, sexual trivia.
Attendance can be as individuals or booked as ready made teams of 6. Colin will create teams on the night for singles or pairs.
Team prizes for 1st and 2nd and the Booby Prize for the team in last place.
---
Carnal Conversations No 8 – "Intimacy Through Touch & Talk & Master The Man" 17th September 2013
Ladies Night Only
Carnal Conversation Part 8  gives an opportunity to the ladies only audience to ask a select panel of unabashed men any question they like about sex and relationships that they have always wanted to ask a man but never quite had the nerve to do so! Whether the questions are presented  anonymously from the Carnal Conversation Question Hat or openly to the panel this is a chance to really get to hear what some men really think and feel about sex and relationships.
The Gentlemen Guest Speakers will include a Male Stripper and Adult Movie Actor, A Film Producer, A Spanish Business Man, A Sex Therapist, A Funk Musician/Astrologer, An Academic, A Barista, A Soldier.
---
Carnal Conversations No 7 – "Intimacy & Sex Matters For Men" 20th August 2013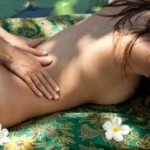 As a sex therapist, masseur and man myself, I am keenly aware that feeling a sense of intimacy with a partner is an important component to achieving fulfilling sex.
In Carnal Conversations Part 7, there is an opportunity, just for the guys to learn more about how to increase sexual and sensual intimacy within your relationships. Particular areas I will be talking about will be sexual performance & knowledge, learning some of the practical aspects sensual massage and understanding as to why we chose the type of partners that we do and sometimes kick ourselves for it.
My aim for this MEN ONLY evening is to provide men with a no holds barred evening where we can discuss openly the many aspect of sexuality and sexual performance.This will include talking about things we have experienced, been challenged with or simply want to know more about.
It is imperative that all those taking part feel safe to talk freely and without fear of judgement. So its important that all taking part agree that all the conversation will remain confidential and that no information disclosed during the evening will leave the room. So whatever sexuality you identify with, age, background or status this is an evening that could change how you think and perform.
In my professional capacity as a sex mentor I will do my best to answer your questions and to give you a clearer understanding on the underlying dynamics of both human sexual performance and relationships.
However the real value of the evening will be the opportunity to hear from others about their experiences, pleasures and issues. One of the most powerful aspects of an event like this is to know that we are not alone in our situation, lack of awareness or exploration.
To round the evening off there will be a demonstration on how sensual massage can help with improving confidence in foreplay.
---
 Carnal Conversations no 6 – "Fantasy, Fetish or just plain Kinky? 17th July 2013
Learn the ropes and unravel the mysteries of the the more unusual sexual practices.
To help heat up the summer, at Carnal Conversations Part 6 we are going to delve in to the private world of sexual fetishism. Sexual fetishism or erotic fetishism is the sexual arousal a person receives from a physical object, or from a specific situation. Could you be a Trichophiliac or a Troilismist. Maybe you are into Forniphillia or is kinky out door sex your thing? Come tonight and be enlightened, entertained even shocked as we hear from my guest speakers as they tell their stories and reveal their secrets and maybe you will share some of yours too!
Following a 30 minute presentation by Colin on the emotional drivers and influences that encourage some of us to explore fantasy and fetish the specially invited speakers for the evening will include Jo King who will give a presentation on Burlesque and the art of stripping, Published author Kavida Rei ( Tantric Sex and Ultimate Erotic Massage) who with her partner Roland will be demonstrating the art of Rope Bondage. Clare Black will be telling us about her role as a professional Doninatrix. There will also be a recital of erotic poetry and a small display of erotic art together with entertaining ice breaking adult game and a Fetish Quiz!
---
Carnal Conversations No 5 – "Culture Clash or Erotic Ecstasy" 7th May 2013
The communication challenges of the modern multi cultural relationship'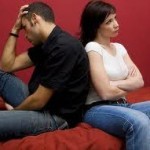 Location : Etruscan Room Home House – This event is open to non members of Home House if applied through Colin
Time : 19:30 PM
Living as most of us now do in a multi cultural and multi faith society it is no wonder that many people find themselves in relationships where the other person appears to have a quite different perspective on what makes good sex and what makes a harmonious union.
In the first half of this Carnal Conversations No 5, Sex & Relationship Mentor ,Colin Richards will be talk about the attitudes and belief systems that we inherit in childhood and how they affect us later in life in relationship.  He will also be explaining how these attitudes as well as the social messages we hear from the culture and belief systems that we are born into, both consciously and unconsciously influence our own attitudes to sex, what we fear, fantasise and actually get sexually.
After the break Colin will lead an open discussion when you are invited to share your own experiences and challenges of being in an inter cultural relationship.
Wine and canapés provided.
---
Carnal Conversations No 4 – "Meet the Movers and Shakers of Adult London" 19th February 2013
Location : Gloucester Lounge Time : 19:30 PM
London is fast becoming the centre of the globe for the more discerning lover of the "adult" lifestyle.
Starting a few years back with the Gay community in Soho, Vauxhall and now Bermondsey the Straight community is fast catching up in revealing a desire for a more sophisticated approach to adult entertainment. Now with elegant venues holding sophisticated swingers evenings and specialist fetish clubs opening regularly and catering to a variety of tastes London is leading the world in a more mature approach to the world of adult entertainment. As boundaries between sexualities blur and multi sexual clubs become the norm and as women recognise their equal entitlement to having as much fun as the men, both singles and couples of all nationalities are more and more seeking a quality sensual adventure that this groundbreaking Capital is increasingly able to provide.
In this Carnal Conversation Part 4, professionals and business leaders will discuss how they are driving this more mature approach to adult entertainment in the nation's capital. So, if you are both curious and open minded and want to explore more about what's on offer, come along.  Hosted by Colin Richards, Sex & Relationship Mentor.
Advance RSVP essential, limited spaces.
Contact:  colin@intimacymatters.co.uk
---
Carnal Conversations no 3 – "When things don't work quite as they should" 9th January 2013
January 9th 2013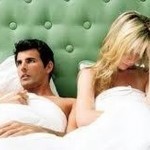 Sexual performance issues can be challenging for both men and women, but often our perceived fears of how they effect the other are far worse that the reality of how they actually feel. The Carnal Conversation Part 3 will be about understanding sexual performance challenges for both men and women. We will be discussing erectile problems, Premature Ejaculation and Anorgasmia for women. We will be discussing orgasm and what it actually means to one another, how does it feel when we ave one and how does it feel when we dont and does it matter?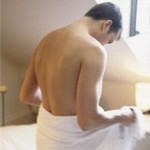 The evening will begin with wine and canapés, Colin will then give a short presentation on male sexual performance and the explain  psychological effect on a man  when he fears he is not going to be able to perform to the standard he believes is expected of him.
Then Jane Thomas founder of http://www.WaysWomenOrgasm.org, author of the book 'Ways Women Orgasm' and expert blogger on http://womens-health.com/ will open the discussion on female orgasm and how women really feel about its importance in having good sex.  This will be followed by open discussion to hear how we really feel when things don't work for us or our partners and what we can do to make it all work better with less pressure and expectation so that we can just simply enjoy the moment.
---
Carnal Conversations No 2 – "

Sex and Touch" 22nd October 2013
In this second Carnal Conversation, Colin  will talk about the importance of incorporating intimate sensual touch in our relationships.
Which part of your body do you like to have stroked? Are you afraid to touch or are you a touchaholic? Does intimacy intimidate, excite or even bore you? This evening certainly won't, so come along and discover the secret science of sensual and erotic touch and its fundamental role in a fulfilling and close relationships. Places strictly limited to a maximum of 25 so RSVP essential. Contact: colin@intimacymatters.co.uk
---
Carnal Conversations No 1 – Fifty Shades: Phenomenon or Fad? 19th September 2013

The inaugural Carnal Conversations looked at the phenomenon that is the book Fifty Shades of Grey. Whether it's the story, the sex, the BDSM theme or the impossibly "hot" Christian Grey, Fifty Shades has stirred the nation – if not the Western world. So where to next for sex? Has the gauntlet been thrown down? Should guys take notice and do they have something to learn from this book? And why IS it so popular with women? This inaugural "Carnal Conversations" aimed to explore the deeper influences and long term effects that a book like this can achieve.
Of the 50 booked for the evening (over subscribed by 20!) about 40 came along. The evening began with live music provided by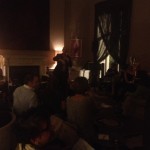 "TheVibrators"(not the 70's punk band revived but guitar, vocal and harmonica proved by Vince and friends)and an icebreaker game that through choosing and describing their favorite animal, guests indicated the characteristics that they would like their lover to have.
This was followed by a 15-minute introduction to the evening's theme, an overview of aspects of the book Fifty Shades of Grey and the world of BDSM, and the deeper psychology of assertive sex and the male and female roles. The main part of the evening was in the form of group discussions, with each group comprising a mixture of men and women of all ages and sexualities. Each group was given a topic to discuss and as the wine flowed and nerves relaxed it was wonderful to hear so many people speak openly about their own experiences and sex in general.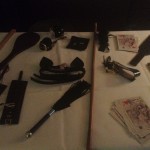 Guest speaker and professional gay male escort and sensual masseur Greg Mitchell provided some spice when he spoke on the dynamics and motivations of some of his more passive male clients and Coco de Mer and Blackwell  kindly provided displays of books and erotic bondage equipment.The official evening finished just before 10pm (but many stayed on to chat more in the bar) with a set of quiz questions one of which was what was the average penis size in certain countries (UK pipped the US, just! and look out any woman or gay man who visits the Congo). Carnal Conversations was a success on all counts and it will be repeated, maybe with occasional changes to the format (a suggestion which I took on board was to have some evenings that are limited in numbers and more topic focused dealing with a particular sexual or relationship issue). Overall the chance for members to get together and hear, talk and learn from one another and experts about sex and sexuality was well received. Thank you everyone for coming along and making the evening go with the swing it did. (Maybe that's the topic for the next Carnal Conversations!)
---
Feedback from events
"Colin recently ran a new member's event at the club based around "Carnal Conversations". The evening was a roaring success. The topics were handled in an engaging but sensitive and professional manner. Given that there were a vast array of people in the room in regard to backgrounds, cultures and demographic, I couldn't have asked for better feedback. The ultimate compliment to Colin and the success of the evening is that we will be having him back!" Reece Williams (Sales and Marketing Director of Home House)
"Carnal Conversations was a superb event where you made everyone feel comfortable to open up and share their utmost boudoir secrets – with strangers.  Very interesting and upbeat way to approach sex." (Monica Martinez Producer of Corset and Diamonds Adult Theme Parties and Events)
"I recently had the pleasure of attending Colin Richards' Carnal Conversations evening and found him to be an excellent host. Knowledgeable and friendly, without being too familiar, he was able to put people completely at their ease and get them talking without embarrassment about sex, a subject upon which they would normally be extremely reticent. The evening was an inspiring mixture if the informative and the entertaining, and the palpable buzz going round the room was a testament to its success." Greg Mitchel (Actor and Model)