Colin Richards
Sex & Relationship Engineer
Hi, my name is Colin, and I have been working in the field of psychosexual health and well-being since 2005. In this time I have helped over 6000 people and in the process discovered many different approaches to dealing with sexual challenges that are not generally covered by conventional methods. Throughout my career, I have encountered a wide range of issues from a general lack of sexual fulfilment to more specific challenges such as anorgasmia and erectile dysfunction, relationship breakdown and fear of intimacy. By combining both physical and psychological methods I am able to offer a unique and alternative approach to my clients that can enable them to experience the rich and full sexual life that may have previously eluded them. My treatments and expertise are open and accessible to all. I work with men, women and couples of all ages, body types, backgrounds, ethnicities, cultures and sexual orientations
Treatments & Workshops
Psychosensual Consultations
This treatment is a combination of mentoring and sensual bodywork. It is particularly beneficial for those who experience emotional or physical blockages that result in partial or permanent lack of sexual fulfilment. These include issues such as anorgasmia, erectile dysfunction, overcoming sexual trauma, fear of intimacy, as well as a lack of experience and knowledge.
Learn more about Psychsensual Consultations
Sensual Treatments
The desire to receive intimate touch is common to us all. Beyond simply being a pleasurable experience, touch is a remarkably beneficial health treatment. It is extremely effective when incorporated into a programme of treatment for clients with a lack of sensual intimacy in thier lives. Receiving a sensual massage is a wonderful way to relax and recuperate. Sensual massage enables us to connect to that primal need of the human body: to receive touch. As a species we are designed to be insecure – it is this innate sense of insecurity that helps us survive. Our bodies are made to receive touch. Our skin alone contains millions of sensory receptors each connecting to our brain. Touch is pleasurable, healthy – and it makes us feel safe and secure. I believe sensual massage takes this to another level and is an ideal way for all people to meet this crucial physical and psychological need.
Learn more about Sensual Massage
Couple Consultations
Increasingly, I am seeing couples who are seeking to re-energise or perhaps re-negotiate their intimate relationships. It's quite common for a couple's sexual connection to falter after only a few years or even months together. This can be brought on by a variety of factors – such as starting a family, or experiencing changes in their personal or professional lives. For some, it's a realisation regarding suppressed desires or unfulfilled fantasies that they are struggling to speak about. For others, it's simply a case of sexual complacency setting in. I offer couples a safe space in which to talk through their challenges and then explore together – through learning practical skills and new ways to enhance their sexual intimacy.
Learn more about Couples Consultations
Private Workshops
Private workshops can be tailored to suit your specific requirements; they can be taken as an individual or couple session where you are personally taught how to give a sensual massage, including specific sensual and erotic arousal techniques along with essential guidance on the psychology of arousal. Practising on specially-selected volunteer receivers or your partner, the options on offer range from the two-hour 'Experiential', the five-hour 'Foundation', the ten-hour 'Intermediate' or – for those wanting to develop a part-time or full-time career in sensual bodywork – there are also twenty-hour courses. Massage training can be man to woman, woman to man, man to man or woman to woman as well as couples learning together.
Learn more about Private Workshops
Group Workshops
Group workshops are designed to be both educational and fun, currently run for a maximum of six people or three couples. In the group workshop you are taught both the practical skills of giving a sensual massage and given an understanding of the psychology of arousal. Practice is given on specially-selected volunteer receivers or your partner. The group workshops are three hours in duration and are divided into the 'Foundation' and the 'Intermediate' sessions. Workshops can be man to woman, woman to man, man to man or woman to woman, as well as couples learning together.
Learn more about Group Workshops
Mentoring
These sessions are taken either as face to face consultations or via Skype or phone. Talking through specific challenges and barriers to experiencing good sex can be the first step to change. I often mentor people in the areas of sexual inexperience, insecurity, lack of confidence or knowledge, or in better understanding their patterns of sexual attraction – including any particular fetishes or kinks.
Online Tutorials
For those who are unable to visit me in London I have an online tutorial platform for teaching sensual massage and specific arousal techniques. www.intimatetutorials.com
---

The question I am asked most often is….
'How did you get to do this type of work'?
I was born in Becekenham, Kent London UK, I am of British but with a London and Irish ancestry.In the early 1960's my parents moved to the South West to take on a remarkable and well known  family holiday hotel in Salcombe, South Devon. The Gara Rock Hotel, was 130-bed  hotel in which I grew up in. It was situated probably one of the most stunning coastal locations in the UK  over looking miles of unspoilt coastline.
Consequently from a young age, I interacted with a wide variety of people including guests, suppliers, other kids and parents. In many ways it was a little like Fawlty Towers but on a larger scale. At the age of 22, I took over as Managing Director after my parents' retirement. I was well equipped for the role, having experienced all aspects of running the business. At various times up to my 42nd birthday as Managing Director, I took on multiple roles including day to day management, food and beverage buyer, HR for up to 40 staff, entertainment host, relief chef, barman, waiter, receptionist, and even in the closed winter months, plumber and decorator. In short, my interpersonal skills and ability to relate to people became second nature. I can now offer newcomers to Intimacy Matters a very warm welcome and put them at ease in this unfamiliar situation.
In 2002, I left the hospitality industry and tried to take on a conventional 9 to 5 job. I quickly discovered that working for someone else was not for me. I embarked on a field of study which has become a lifelong passion. I trained as a life coach and therapeutic masseur at The Association of Natural Medicine in Totnes, Devon and then undertook a 2-year training in Psychosexual and Relationship Therapy at Regent's College in London. Further training included a certificated Imago Educator and foundation training in NLP and Hypnotherapy. Armed with my certificates, I was confident I could pursue a career which enabled me to help people and make use of my unique combination of innate skills.
I moved to London in 2005 and began working as a Sensual Massage Therapist and Sexual Performance and Relationship Mentor. I immediately became aware that a significant number of men and women needed discreet, practical support and guidance in their sex lives. These revelations led me to start up both Singles and Couples Therapy.
My business expanded rapidly, solely on the strength of recommendations by satisfied clients. Since 2005, 6000 men and women have used my services. Furthermore, the past decade has been extremely rewarding for me on a personal and professional level. In addition to providing high-quality services, I've gained profound insight and understanding about a range of psychosexual issues.
Several themes emerged: the complexities of creating intimacy, building fulfilling relationships and the impact of touch in our daily lives. I noticed that many of my clients were struggling with feeling isolated or frustrated. Others grappled with self-inflicted criticism, judgmental or ignorant attitudes cultivated in early childhood. I was touched by my clients' stories and wanted to find meaningful strategies to help them.
I decided that my approach to teaching alternative sexual education would have to be down to earth, straightforward and open. I am an educator, teacher and mentor on sexual issues. I've created a discreet and welcoming environment which affords people the opportunity to discuss their psychosexual concerns and also receive the practical tools to tap into their innate sensuality.
I'm a versatile trainer and teacher. My experience is based on anecdotal evidence, personal insights and academic study. I share my message across a variety of forums: as a massage therapist, a sex mentor or consultant, or when speaking at an event or leading a special interest workshop.
I live and work in my riverside apartment in Battersea, Central London but I am also available to travel in the UK and abroad to see clients and run workshops.
I am the host for Intimacy Matters Presents, an event for members and guests which I have held at Home House and Century Club, two of London's premier private members' clubs in Marylebone and Soho.
I am also the appointed Sex Mentor for Adult Lifestyle Club, Killing Kittens.
I have been featured in the national media – including the BBC World Service, Channel 5, Mail Online, Cosmopolitan, Daily Mirror, I-News, The Times, The Independent and Reveal magazine.
I give regular public talks on topics related to sex and relationships, through the Funzing community.
In December 2018 I was featured in the Channel 5 documentary 'The Sex Business' series 2 episode 3 'Orgasm on Sale' profiling practitioners who work with women.
My personal background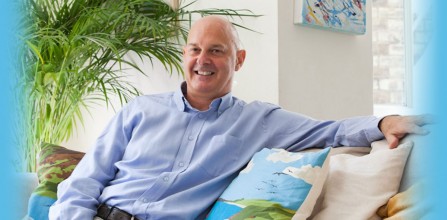 I have five adult children (two sons and three daughters) from my 17-year marriage. I have been in a 5 year relationship with my partner Clare whom is my best friend, compatriot, lover and guide. We're an outgoing and sociable couple who enjoy attending gatherings, talks, restaurants and the theatre. I am health conscious and maintain an active lifestyle by swimming regularly, playing tennis, squash as well as skiing.
Watch
COLIN TALKS SEX
In this 10-minute video interview (15/2/18) recorded for mental health resource charity website, Head Talks Colin advocates that healthy physical and mental well-being must include a fulfilling sex life, where sexual satisfaction and sensual intimacy can flourish freely without judgement or cultural constraints.
Listen 
To broadcaster Jackie Walker as she talks to Colin about massage & sensuality.
Click on the links below to listen to Colin's radio interview:
Part 1 – Interview with Colin
Part 2 – What women need to know
Part 3 – Emotional Release
Read
The Making of a Maverick: The Birth of a Sex Engineer -Interview with Journalist, Chrissie Rowell
Interview with Colin with renowned American Sex Blogger, CJ Asher
Colins Podcasts & Youtube Channel
Training & Qualifications
Read Colin's Testimonials [Click Here]
Click here to add your own text